Facebook
no hay consuelo
ante la desgracia. descansa en paz neiky.
----------------------------------
North York Mirror/
Andrew Palamarchuk
A North York mother is dead after being struck by two cars outside her home Thursday, Nov. 1.
The accident happened on Lawrence Avenue, east of Dufferin Street, at 6:53 a.m.
Neiky Pardo, 33, was pronounced dead at the scene.
Police said the pedestrian was crossing Lawrence mid-block from the south side when a westbound gold 2004 Nissan Maxima driven by a 28-year-old man hit her.
"She was knocked into the eastbound lanes and struck by an eastbound Volvo," Const. Clint Stibbe said.
The grey 2006 Volvo, driven by a 52-year-old man, was then rear-ended by a Mazda.
It was raining and dark at the time; police believe those were factors in the collision.
"But any time you have a mid-block crossing, it is dangerous to begin with," Stibbe said.
Pardo, the mother of a young child, lived on Lawrence, steps from the accident scene.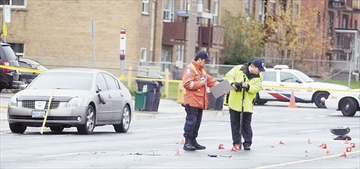 Police closed Lawrence between Dufferin and Bolingbroke Road for about five hours as they investigated the collision.
"We are appealing for witnesses," Stibbe said. "We're asking them to come forward."
Anyone with information should call police at 416-808-1900.