CONTRA EL PINGALISMO CASTRISTA/ "Se que no existe el consuelo que no existe la anhelada tierrra de mis suenos ni la desgarrada vision de nuestros heroes. Pero te seguimos buscando, patria,..." - Reinaldo Arenas
domingo, marzo 09, 2014
Joel García

"Defensora" del pueblo de #Venezuela: "La tortura tiene sentido"
viernes, marzo 07, 2014
Hoy, a las dos y media de la tarde, CNN emitirá la versión en inglés de la entrevista concedida por Nicolás Maduro —y quizás autorizada por Raúl Castro— a la periodista Christiane Amanpour.
¿Qué hace la señora Amanpour vestida de verde oliva?
¿Por qué, de la extensa colección de trajes y disfraces con la que debe contar una cadena como CNN, se escogió el más castrense de los colores para entrevistar al asesino de Maduro?
¿Será parte del mismo programa, en aras del tan cacareado balance que se enseña en todas las facultades de periodismo de los EEUU, una entrevista con el líder opositor Leopoldo López?
En caso de que esa entrevista con López haya sido autorizada por Raúl Castro, ¿se habrá vestido de blanco la señora Amanpour para hacerla?
Nada tengo, a nivel personal, en contra del verde oliva; mi abrigo de invierno, por ejemplo, tiene un color muy cercano a ese.
Creo que a nivel individual la gente debe tener el derecho a vestirse como le dé su real gana. A nivel de imagen pública, sin embargo, está demostrado que hay colores que hieren sensibilidades y es mejor evitar. A menos que se tenga una razón poderosa —casi siempre el poder— para no hacerlo.
Mucho me temo, ojalá esté equivocado, que la tan cacareada entrevista de la señora Amanpour tendrá muy poco valor informativo. La información, para ser considerada como tal, tiene que aportar algo que esté fuera de la monotonía.
La reiteración constante, pasado un tiempo prudencial, pierde su contenido informativo. Y si algo ha demostrado Nicolás Maduro, a lo largo de todos estos años, es su capacidad para repetir, hasta el hartazgo y la monotonía, las mismas consignas que le enseñaron en La Habana.
Mucho me temo que en esta ocasión nada diferente sucederá y al final tendremos, cortesía de CNN, la versión inglesa y amplificada de las mismas tonterías no codificantes que Maduro lleva tanto tiempo repitiendo. Una de ellas, la más cínica de todas, es que el suyo es un gobierno democrático.
Hace ya un tiempo escuché a Oprah Winfrey decir que si hay una entrevista que a ella le habría gustado no haber hecho fue la que le hizo, en su programa, a unos supremacistas blancos. Unos pobres tipos, refractarios a la lógica, que respondieron a preguntas inteligentes y respetuosas con una sarta de consignas y un cinismo a prueba de balas. Al final de esa entrevista Oprah se dio cuenta que eso tipos, incólumes, celebraban por la exposición que habían recibido en su programa.
Algo similar puede terminar sucediendo hoy con la entrevista de la señora Amanpour.
Por suerte vivimos en la era del internet y tenemos a esta muchacha, que se hace llamar Mariel, para decirnos, de forma clara y altamente codificante, lo que Maduro, con toda certeza, nunca le dirá a CNN.
Aquí el video (pásenlo, por favor):

Venezuela: CNN y Mariel | aguilera
sábado, marzo 01, 2014
Oscar Suarez

Castro busca un mártir entre médicos cubanos para culpar a oposición venezolana
viernes, febrero 28, 2014
AmericaTeVeCanal41

Venezuela: Declaraciones de la esposa de Leopoldo Lopez
By Alice Speri, VICE News
Eduardo Barreto isn't sure if the armed guards that have been shooting at him were even Venezuelan.
Since joining his country's protests earlier this month, the 20-year-old economics student from Valencia has been tear-gassed and chased by officers on motorcycles. He has watched his friends get shot in the back as they fled, and he was marching on the same street where student and beauty queen Génesis Carmona was killed last week.
He has little love for the National Guard, which the government has unleashed on protesters, but if he's going to get shot, he'd like it at least to be done by a countryman.
"We know there are Cuban officers within our National Guard," said Barreto, repeating widespread but unconfirmed reports that president Nicolás Maduro's government might have tapped its island neighbor for help in protecting its Bolivarian revolution. "Can you imagine Russian officers joining the US National Guard to shoot at American citizens there? That's unacceptable."
Barreto says he has no doubt that at least some of the officers he has come across are Cuban. Early on in the protests—before guards started shooting at him—he brought them water bottles to cool off while they watched over demonstrators.
"They were in the streets standing in the sun all day, and I wanted to be friendly," Barreto said. "One of them, when he thanked me, had a Cuban accent. I know a Cuban accent; I have uncles there."

Are Cuban Special Forces Shooting at Venezuelan Protesters?
miércoles, febrero 26, 2014
martes, febrero 25, 2014
Venezuela, Latin America's biggest exporter of crude oil, with some of the world's largest petroleum reserves, is facing its biggest anti-government protests in a decade. As many as 13 people have been killed, 150 injured and 500 arrested in the unrest.
The demonstrations, which began as student protests in early February, spread after the first deaths on Feb 12. They are the biggest challenge President Nicolas Maduro's 10-month-old government has faced so far.
But what's behind the protests? And how is the government handling them? Where are things expected to go from here?
What is at the heart of the protests? Hardship
Venezuelan society is in dire straits. A person is murdered in Venezuela every 21 minutes. Imports and staples such as milk, flour and soap are in short supply and cost a fortune.
Venezuela has runaway inflation, last year
registering at 56 percent
— the highest rate in Latin America. And the government's attempt to control foreign currency coming into the country has created a virulent black market in dollars. While the official exchange rate is around 11 Venezuelan bolivars to $1, you get 80 bolivars to the dollar on the black market, and many goods are priced based on black market prices. Frequent power blackouts are also a common complaint.
What is the opposition demanding?
The students are demanding that Maduro resign over Venezuela's high rates of crime and inflation and shortages of staples such as milk, flour and sugar. They have also accused the president of brutal repression of protests.
Opposition leaders such as Henrique Capriles and others are also demanding that the government release imprisoned protest leader Leopoldo Lopez and dozens of other jailed student demonstrators.
Anger is rooted in deep polarization of society
One-third of the population lived in poverty when former President Hugo Chavez came to power 15 years ago. The government says that anti-poverty programs Chavez pushed through have cut the number of people in poverty in half through heavy government subsidies for food, housing, education and health care — programs paid for by oil revenues and the nationalization of some 1,000 companies.
But critics say "Chavismo," the term used to describe the left-wing political ideology Chavez espoused, has left Venezuela more divided than ever.
Maduro, a 51-year-old former union activist, won the election to replace Chavez last year by just
1.5 percent
— the narrowest margin in the country's history. The slim margin shows how divided the country is between those who love Chavez and his legacy and those who hate everything he did.
Military's use of force has escalated tensions
Anti-government protests are going on in several cities, but some places are hotter than others.
San Cristobal, a city some 10 hours by car from Caracas and the capital of the western Tachira state, which borders Colombia, is almost completely shut down. Two army battalions were sent to the region to retake control, but they were met with fierce resistance from middle-class professionals, housewives and merchants who joined forces with the students. The region is a longtime opposition stronghold — 73 percent voted against Maduro in last April's election.
The opposition has accused Maduro of using storm-trooper tactics to crack down on what had been peaceful protests. As many as 3,000 soldiers were dispatched to control the city, which has just over half a million residents.
While Maduro has used a heavy hand in San Cristobal, he has had a lighter touch in the capital Caracas. The government has used counter-demonstrations to try to silence the daytime student protests there. For instance on Tuesday, thousands of workers at the state telephone company were expected to march to support the president.
Nightfall is when the violence in Caracas has occurred, with clashes between the students and "colectivos," paramilitary vigilantes who support the government. Students say these vigilantes are armed thugs the government has unleashed to crush the opposition instead of employing uniformed security forces.
Who are the opposition leaders?
Henrique Capriles, 41, is one the main opposition leaders. Maduro extended an invitation to Capriles on Monday to take part in a meeting of mayors and governors, which some had hoped would open up communications between the sides — but Capriles spurned the invitation.
"This is a dying government.... I'm not going to be like the orchestra on the Titanic," Capriles told reporters, according to Reuters. "Miraflores [the presidential palace] is not the place to talk about peace. It's the center of operations for abuses of human rights."
Leopoldo Lopez
, a 42-year-old Harvard-educated economist, led demonstrations for several weeks before
surrendering himself
to authorities who had ordered his arrest. "May my imprisonment serve to wake the people up," he said as he gave himself up to soldiers in Caracas in front of a huge crowd on Feb. 18.
What is the state of U.S.-Venezuelan relations?
Venezuela and the United States have been without ambassadors since 2008. And just last week, Maduro expelled three U.S. diplomats, accusing them of stirring up the protests, a claim Washington rejected as baseless.
In retaliation, the State Department on Tuesday ordered three Venezuelan diplomats to leave the U.S.
The department said in a statement that two first secretaries and a second secretary at the Venezuelan Embassy in Washington had been declared personae non gratae in response to Caracas' move against the three Americans. "They have been allowed 48 hours to leave the United States," the statement said.
But in spite of the diplomatic spat, Maduro said earlier Tuesday that he planned to nominate a new ambassador to Washington to try to improve relations.
What's next? Maduro may try new tactics
Maduro has blamed others for his trouble. From the start he described the protests as a U.S.-inspired coup d'etat to undermine his democratically elected rule. So far, those tactics haven't worked. In addition to saying he now wants to appoint a new ambassador to the U.S., Maduro announced that he wants to host "a national peace conference with all social, political, union and religious groups" to denounce violence while asking the parliament to form a commission to look into the protesters' grievances.
NBC News' Petra Cahill and Reuters contributed to this report.

Seven Things To Know About the Venezuela Crisis
Caracas, Venezuela.- Estudiantes marchan frente a la embajada de Cuba en Caracas para entregar un comunicado en el que piden el cese de la injerencia de los hermanos Raúl y Fidel Castro.

Gaby Arellano, dirigente estudiantil de la Universidad de Los Andes, manifestó que estudiantes exigirán que Cuba no interfiera en Venezuela.

Los jóvenes se concentraron en la plaza Alfredo Sadel de Las Mercedes y de ahí partieron a la embajada. Otros grupos se dirigirán hacia otras embajadas de países latinoamericanos.

"Queremos denunciar la injerencia de Cuba en las fuerzas militares venezolanas, sabemos que tienen que ver con la violencia de la guardia hacia los estudiantes. Que sean sacados todos los agentes de los Castro", expresó.

Marcha de protesta frente a la embajada de Cuba en Caracas por ingerencia castrista
bien pudiera ser falcon el hombre que introduce las estrategias de la habana para solventar la grave crisis politica que sufre venezuela pesimamente gestionada por maduro.
------------------------
Lapatilla Patillavideo

Venezuela: Intervencion de Henri Falcon en el Consejo Federal de Gobierno
lunes, febrero 24, 2014
es una leccion para las fuerzas opositoras a cualquier dictadura como la firme actitud del general de brigada angel vivas y el apoyo ciudadano y de los ciberactivistas, logra que las tropas enviadas expresamente por nicolas maduro, se retiraran de los alrededores de su casa sin cumplir la orden recibida.
72pantalla2

General Vivas: Le dice la verdad al mundo, sobre los Castros en Venezuela
sábado, febrero 22, 2014
By Karl Penhaul, Esprit Smith and Chelsea J. Carter
Caracas, Venezuela (CNN) -- Venezuelan President Nicolas Maduro called Friday on the United States to exchange ambassadors just days after expelling three American diplomats from the country.
The request came during an hours-long news conference aired on state-run TV, where Maduro called on President Barack Obama to begin talks, even as he repeatedly accused the United States of interfering in Venezuelan internal affairs and stoking sometimes violent anti-government protests in recent days.
"I call for a dialogue with you, Obama," Maduro said. "You can designate (U.S. Secretary of State John) Kerry or whoever you want to come to this dialogue and I will send my foreign minister ... for this high-level meeting."
At the same time, Maduro accused Obama of failing to live up to a commitment not to "interfere with Venezuelan affairs."
"What you have said has not been carried out," he said.
The United States and Venezuela have not had resident ambassadors since 2010, although they have maintained diplomatic missions and active embassies.
Maduro's call to exchange ambassadors comes after his government accused American diplomats of using a visa program as cover to meet with with youth organizers at private universities "for training, financing and creating youth organizations through which violence is promoted in Venezuela."
The expulsion, which President Nicolas Maduro first announced Sunday, comes after the State Department expressed concerns about rising tensions in Venezuela.
Maduro's news conference comes amid questions of whether he can hold onto control of the country amid rising demonstrations.
Venezuela's western state of Tachira became a flashpoint Friday between anti-government protesters and security forces.
Protesters blocked off some of the main roads in the capital, San Cristobal, public transportation was paralyzed, and few businesses were open.
Maduro's government has responded strongly to protests in Tachira as he faces the largest demonstrations since coming to power almost a year ago.
The country's interior minister, Miguel Rodriguez Torres, has announced a new plan to restore order in Tachira, which, he said, may include sending a battalion of paratroopers there.
"This battalion will reinforce the units that find themselves on the major roadways that converge in this city," Rodriguez said Thursday.
The military is necessary because the government believes that people from across the border in Colombia are crossing into Tachira to make trouble, Rodriguez said.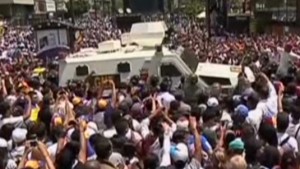 CNN cams taken at gunpoint in Venezuela
Meanwhile, the government on Friday said that eight people have died in the violence related to the protests and clashes.
Attorney General Luisa Ortega Diaz said another 137 have been injured.
Four people were killed in Caracas, two in Carabobo state, one in Sucre state and one in Lara state, he said.
The government and the opposition blame each other for the deaths.
Maduro singled out one opposition leader, Leopoldo Lopez, as responsible for calling for the protests.
Lopez turned himself in to authorities this week, and he was charged Thursday with arson and conspiracy. More serious charges of murder and terrorism were dropped.
If convicted, Lopez could face up to 10 years in prison.
The unrest
During the demonstrations, supporters of the country's socialist government and anti-government protesters have flooded social media with reports of violence, making drastically different claims about who's behind it.
Since February 13, more than 2,000 stories from Venezuela have been uploaded to iReport, CNN's user-generated platform. Many of the videos and photos depict violent scenes between demonstrators and government forces.
He also called out called out CNN, Fox and other U.S.-based media, claiming that they are encouraging opposition forces against the government
Alejandro Camacho Beomont told iReport that students Wednesday blocked streets and burned debris in San Cristobal, from where he sent photos -- and he said he didn't blame them.
"Even though I am always looking for peace to make a better place to live, I think people have the right to express themselves in the ways they can, and it is not easy to express yourself in this country now," he said. "I support the protesters. There have been more than 15 years that the majority of the Venezuelan citizens are going through tough times. There are so many problems we have to face every day, and there seems to be not a sincere attitude from the high government officials to rectify (them)."
In a nationally televised broadcast Wednesday night, Maduro described bullet wounds sustained by government forces during protests and showed videos that he said depicted opposition protesters throwing stones and setting buses ablaze.
"You think this is a novel? This is the reality that you with your hatred have created," he said. "If you don't like Venezuela, leave."

Venezuela's Maduro wants talks with Obama
viernes, febrero 21, 2014
Acabamos de hablar con Valencia Venz, Febrero 21 , 2014 5:00 pm No tienen Internet y les han cortado todas las vías de comunicación.

Aparentemente solo los BlackBerry o una red social interna de ellos que le llaman BB BlackBerry es posible alguna comunicación, no entendí bien lo que quería decir BB.

Aviones y Helicóptero sobrevuelan la ciudad muy bajitos para intimidar pero ellos creen que los helicópteros tienen alguna técnica para cortar comunicaciones.

Me dijeron que lograron esta vía a través de alguien en los Andes.

Las ciudades y calles están sitiados por el ejercito, aparentemente no han habido muertos, pero si muchos heridos, Estado de Toque total, los tiene completamente sitiados

Venezuela en Estado de Sitio Total
jueves, febrero 20, 2014
By Petra Cahill
When the now infamous "F--- the EU" conversation between American diplomats first surfaced this month, attention was focused on the presumed Russian leakers' Cold War-era "tradecraft" and the impolitic use of the F-word.
But taking a closer look at the substance of the conversation between U.S. Assistant Secretary of State Victoria Nuland and U.S. Ambassador to Ukraine Geoffrey Pyatt now that the turmoil in Ukraine is center-stage reminds that the discussion focuses on the disparate opposition leaders and how the U.S. might play them to suit American interests.
Much of the leaked conversation centers around
Vitali Klitschko,
the former heavyweight boxing champ and a major leader of the opposition movement, who Nuland believes is essentially not ready for the big leagues.
The diplomats discuss "personality management" of Klitschko and other opposition leaders Arseniy Yatseniuk and Oleh Tiahnybok.
The leak clearly starts mid-conversation with Nuland asking, "Whaddya think?"
Pyatt replies, "I think we're in play. The Klitschko piece is obviously the complicated electron here..." He explains how he wants Nuland to have a have a phone call with the former heavyweight.
Nuland replies: "I don't think Klitsch [Klitschko] should go into the government. I don't think it's a good idea."
Pyatt replies: "Yeah. I guess... in terms of him not going into the government - let him stay out and do his political homework and stuff. I'm just thinking in terms of sort of the process moving ahead, we want to keep the moderate democrats together. The problem is going to be Tiahnybok [Oleh, leader of the far-right Svoboda Party] his guys and I'm sure that's part of what [President Viktor] Yanukovych is calculating on all of this."
Nuland breaks in: "I think Yats [Yatseniuk] is the guy who's got the economic experience, the governing experience. He's the guy. You know, what he needs is Klitsch and Tiahnybok on the outside. He needs to be talking to them four times a week, you know. I just think Klitch going in, he's going to be at that level, working for Yats and Yuk, it's just not going to work."
Pyatt replies: "Yeah, no. I think that's right…"
Later Pyatt adds: "I think just knowing the dynamic that's been with them where Klitschko has been the top dog, he's going to take a while to show up for whatever meetings they've got and he's probably talking to his guys at this point. So I think you reaching out directly to him helps with the personality management among the three…"
The conversation goes on to discuss a new U.N. envoy and the infamous "F--- the EU" comment, conveying frustration with the European Union's efforts to find a diplomatic solution to the burgeoning crisis.

Ukraine: Klitschko Was Focus of Leaked 'F--- the EU' Call