CONTRA EL PINGALISMO CASTRISTA/ "Se que no existe el consuelo que no existe la anhelada tierrra de mis suenos ni la desgarrada vision de nuestros heroes. Pero te seguimos buscando, patria,..." - Reinaldo Arenas
lunes, diciembre 24, 2012
Notes from the Cuban Exile Quarter
Laura Inés Pollán Toledo in Cuba and Aung San Suu Kyi in Burma
The Obama Administration has continued to extend a hand to the Cuban regime and has little to show for it, except increased repression, the deaths of high profile activists, and an American citizen rotting in a Cuban prison. There is no reason to suppose that further unilateral concessions will produce a different outcome.
Sanctions
are the last
nonviolent
way of seeking to change an unjust system by refusing to cooperate with tyranny. When discussing the Cuban embargo in the mass media these two aspects are rarely, if ever, touched upon. Academics and the lobbyists for big business,
such as USA Engage
, often claim that sanctions never work; rather, it is economic engagement that leads towards greater respect for human rights.
However, recent history in
China
, Burma, and
Vietnam
indicate otherwise. This disconnect from reality stems from two factors: self-interest and a reading of power dynamics that ignores people power in favor of focusing on regime elites.
In a New York Times article entitled "
Easing of Restraints in Cuba Renews Debate on U.S. Embargo
," Carlos Saladrigas claims that "maintaining this embargo, maintaining this hostility, all it does is strengthen and embolden the hard-liners . . . what we should be doing is helping the reformers." Essentially, Mr. Saladrigas argues that lifting sanctions would weaken and dissuade hardliners while at the same time benefiting reformers. Over the past four years the Obama Administration
has loosened economic sanctions
on Cuba.
If Mr. Saladrigas is correct, we should observe former outsiders in the regime tackling and winning policy discussions, but that has not been the case. On the human rights front the situation has actually deteriorated. One of the policy objectives of the Castro regime both internally and internationally is to portray itself as David against Goliath. Despite having normal trade relations, Hugo Chavez has undertaken
the same kind of campaign
in Venezuela. Often times the U.S. State Department has fallen short of explaining the sanctions policy fully or for that matter defending it in a vigorous manner at international forums. This has allowed the Cuban government a free hand in a sustained campaign to portray itself as a victim blaming all of its economic woes on the American blockade on Cuba.
Nevertheless as
John Adams
once observed, "Facts are stubborn things; and whatever may be our wishes, our inclinations, or the dictates of our passion, they cannot alter the state of facts and evidence." The facts at present demonstrate that the arguments of the regime and its apologists do not hold up under scrutiny. First, one of the problems with the sanctions debate is that words are used interchangeably which are not synonymous while others that should be are not.
For example the Cuban government and many of its apologists use the terms blockade and
embargo
as if they were the same thing. At the same time the terms embargo and sanctions are viewed as somehow different. A blockade is specifically a military term that according to the
Merriam-Webster Dictionary
is "for the isolation by a warring nation of an enemy area (as a harbor) by troops or warships to prevent passage of persons or supplies." In the case of Cuba there was only one time when a blockade was put in place and that was by
President John F. Kennedy
during the 1962 Cuban Missile Crisis beginning on
October 22
and it was ended less than a month later on November 20, 1962.
What is known as the Cuban Embargo began On January 3, 1961 when President Dwight D. Eisenhower suspended trade with Cuba, a few days after his administration broke diplomatic relations with the country. The embargo on Cuba since its inception has
meant restrictions on trade and travel to the island
by U.S. citizens and in practice has been a partial embargo. Over the decades these sanctions have
been loosened
and tightened depending on the circumstances at the time.
An
actual embargo
would mean that there is a
complete ban
on or prohibition of trade by the United States with Cuba. This is not the case. What you have in Cuba is a partial embargo which is exactly the same in definition as economic sanctions. Between January 2000 and September 2012 according to the
United State Census Bureau
there has been $4,291,200,000.00 in U.S. trade in goods with Cuba.
The ban on U.S. imports from Cuba remains but U.S. exports to Cuba have been going on since 1992 with the
amounts dramatically increasing since 2002
reaching its peak in exports to Cuba under the Bush Administration in 2008. Despite loosening restrictions further under the Obama Administration trade with Cuba has dropped to 363.3 million dollars in 2011 and figures for 2012 show a slight improvement with total sales to the island at $337.5 million as of September. This is not a total embargo but a partial one in which the United States is one of Cuba's top trading partners.
At the same time Cuban exiles, many committed to maintaining economic sanctions against the dictatorship, are also a main source of remittances to their families on the island totaling hundreds of millions of dollars per year. The aim of the embargo initially, during the Cold War, was to penalize the Castro regime for seizing U.S. properties and limit its ability to fund armed guerrillas and terrorist groups in the region aimed at toppling friendly governments. With the exception of the Sandinistas in Nicaragua in 1979 this policy was a success in the Americas.
Following the collapse of the Soviet Union changes were made to sanctions policies that sought in the 1992 Torricelli Bill and 1996 Helms Burton Bill to make clear that sanctions would remain in effect until all political prisoners were freed, the government tolerated a political opposition and free elections were held. Funds were also set aside by Congress to assist through development assistance independent civil society. In addition Congress in the 1980s established Radio/TV Marti to break the information monopoly of the dictatorship. Also in the late 1980s the United States led an effort at the U.N. Human Rights Commission to expose the systematic human rights abuses on the island and hold the Cuban dictatorship to greater scrutiny.
The result of what amounted to a tightening of sanctions and redirecting them from Cold War considerations to a pro-democracy effort combined with diplomacy was to provide protection to Cuban dissidents on the island, along with the means to reach the populace via radio while also setting up licensing to permit the sending of humanitarian and technical assistance to dissidents by civil society groups in the United States. This led to the growth of the pro-democracy movement on the island and greater support for it internationally.
Policies have consequences
The loosening of sanctions and the lower profile on the international front has meant that the regime has not had to face the same level of accountability that it did back in 2003 for example. During the Black Cuban Spring of 2003 the international community's response caught the Castro dictatorship by surprise with a sustained campaign to release 75 Cuban prisoners of conscience arrested during the March 18 crackdown and sentenced up to 28 years in prison.
None of the 75 are serving their sentences in a Cuban prison today. So what have we witnessed in Cuba over the past four years? The deaths, under suspicious circumstances, of national opposition figures such as
Laura Inés Pollán Toledo
and
Oswaldo José Payá Sardiñas
; The deaths of
Orlando Zapata Tamayo
and
Wilman Villar Mendoza
, human rights defenders on hunger strike in the custody of the Cuban authorities; and, an increase both in the number of detentions and the degree of violence used against nonviolent activists.
Over the past four years there has been a dramatic increase in the number of arbitrary detentions in Cuba: from 870 in 2009 to 5,625, thus far, in 2012. One example of this disturbing trend is the death of
Juan Wilfredo Soto Garcia
from pancreatitis, caused by the brutal beating he received from Cuban government agents.
Another is that of American
Alan Gross
, arrested on December 3, 2009 and sentenced to 15 years in a Cuban prison. He spent
25 days in a Havana jail
before being visited by a U.S. diplomat. By that time Alan Gross had been approached by a Cuban "attorney" who just happened to be representing
five Cuban spies
imprisoned in the United States for espionage and conspiracy to commit murder. This Cuban attorney represented Alan Gross before his show trial and later appeals. Alan Gross's supposed crime: Attempting to provide Internet access to the local Jewish community in Cuba. The reality is that he is a pawn of the Castro regime to be used in pressuring concessions from the Obama Administration.
The Administration
dangled several offers
to the Castro regime and
made a unilateral concession
:
Take Cuba off the list of state sponsors of terrorism.
Waive probation for one of five Cuban agents convicted of espionage in the United States that planned at least one terrorist attack in the United States and provided intelligence that led to the downing of two US civilian planes over international airspace on February 24, 1996 killing four.
Cuba democracy programs would no longer be about promoting democracy but "building civil society."
The White House and Senator John Kerry pushed to unilaterally cut money for the Cuba democracy programs and freeze their funding.
On the other side of the ledger the Cuban dictatorship did not suffer any repercussions for arbitrarily detaining a U.S. citizen.
Alan Gross remains incarcerated
to this day and December 3, 2012 will mark his third year in captivity as an American hostage of the Castro regime. Looking beyond Cuba to China, Vietnam, and Burma, we are presented with a cautionary tale on lifting sanctions unconditionally. In
China
and
Vietnam
the United States lifted sanctions, effectively de-linking human rights considerations from economic ones. The result has been a deterioration of human rights standards in both countries. '
In
Burma
, on the other hand, where sanctions were maintained, there have been signs of improvement in rights protections. The military junta, after years of trying to manipulate its way out from under them, has had to recognize the political opposition and provide a space for them in Burma's parliament. Things are still far from perfect, but there is hope that serious and permanent reforms are underway. The ability of
Aung San Suu Kyi
to run for public office, and for an independent press to begin to operate in Burma following decades of systematic censorship and control, are both positive signs.
Aung San Suu Kyi
has been clear about the
importance of sanctions
and of confronting those that would engage the dictatorship at the expense of the human rights of the Burmese people:
"Investment that only goes to enrich an already wealthy elite bent on monopolizing both economic and political power cannot contribute toward égalité and justice, the foundation stones for a sound democracy. I would therefore like to call upon those who have an interest in expanding their capacity for promoting intellectual freedom and humanitarian ideals to take a principled stand against companies that are doing business with the Burmese military regime. Please use your liberty to promote ours."
Prominent Cuban-American businessmen
have also spoken out
against unconditionally lifting sanctions in Cuba, stating in a letter titled "Commitment to Freedom" that "absent the dismantling of the totalitarian apparatus on the island, along with the unconditional release of all political prisoners and the restoration of fundamental human rights, there should be no U.S. unilateral concessions to the Castro regime." They, like Aung San Suu Kyi believe that it is unprincipled for companies to do business with a dictatorship exploiting the suffering of an oppressed people. Things are improving in Burma on the human rights front, while relations are worsening in China and Vietnam. Linking human rights with economic engagement has been a winning formula in Burma- and there's hope that it can be in Cuba as well.
Room for improvement
However, there are always opportunities for improving sanctions policies- seeking out approaches that make the people, and not the dictatorship, the priority. For example on August 4, 2011 the Obama Administration announced a ban on visas for people who the State Department finds have been involved in human rights violations. Unfortunately, since then we have seen that human rights violators of the Castro regime are immigrating to the United States. If this ban were applied vigorously to the hardline elements of the Cuban regime it would be positive step that would protect dissidents by holding abusers accountable and providing a penalty, but this ban also needs to be expanded to follow the path taken by the European Union when dealing with the Mugabe regime in Zimbabwe. Banning the relatives of the hard line elements of the dictatorship from visiting the United States would create greater pressures on the regime for change.
Unfortunately, what has gone on in practice is that the
children and relatives of the hard liners have an easy time obtaining visas
to the United States while the families of dissidents have a more difficult time.
There are two profoundly different visions of how to achieve positive change in Cuba. One views the populace and their representatives in the emerging independent civil society, or dissidents, as the protagonists of change. The second views regime elites and possible reformist elements within the dictatorship as the protagonists for change. The trouble with the latter view is that it often mistakes profiteering with progress, as China has demonstrated. This approach also undermines the morale of dissidents and the populace at large, thus emboldening the dictatorship. History has shown us that change occurs from the ground up. Thus, when sanctions are lifted in an effort to allow elements within the regime to reform, the action actually has the opposite effect. The paradox is that the most effective way to encourage reform is to empower dissidents by pressuring the regime with sanctions. If the current policy of loosening sanctions and not holding the regime accountable for its gross and systematic human rights violation, beyond pro-forma denunciations of atrocity after atrocity then things will get a lot worse and they will never improve for Cubans.
U.S. sanctions policy with regards to the dictatorship in Cuba was about containment of the exportation of the Cuban model throughout the hemisphere, and during the Cold War having Cuba serve as a drain on Soviet resources that contributed to its eventual bankruptcy. In the post Cold War years it shifted once again with a focus on human rights. The failure of the United States to
do this
in China, Cambodia, Venezuela and Vietnam with their deteriorating human rights situation is not that the policy in Cuba is incorrect as some would claim but that the policies in these other countries are profoundly immoral and ignore human rights concerns. Instead these policies f
avor of short-term corporate economic interests
that run counter to the interests of the majority of U.S. citizens
not to mention the long term economic well-being
of the United States.
miércoles, julio 18, 2012
Foreign Policy/
Carlos Sardiña
Las irreconciliables posiciones entre el Gobierno birmano y el grupo étnico kachín.
La noche del 9 de junio de 2011 una serie de fuertes estruendos despertaron a Labang Hkwan Tawng, una robusta mujer de 60 años, mientras dormía con su nieto en Sang Grang, una aldea de unas sesenta casas en las montañas del norte del Estado Kachín, en Birmania. El sonido era inconfundible: fusiles de repetición y morteros cuyos proyectiles llegaron a caer en pleno centro del pueblo. Aterrados y sin tiempo para recoger sus pertenencias, Labang Hkwan Tawng y su nieto corrieron a refugiarse en el bosque junto a otros habitantes del pueblo. Desde allí caminaron durante días y finalmente llegaron al campo de desplazados internos de Nhkawng Pa, situado en una aislada zona montañosa a pocos kilómetros de la frontera con China.
Más de un año después, el pueblo está vacío y Labang Hkwan Tawng y su nieto continúan viviendo en el campo junto a otros 1.636 refugiados. Las organizaciones no gubernamentales locales calculan que al menos 75.000 personas han tenido que abandonar sus casas desde que aquel día de junio volviera a estallar el conflicto entre el KIO y el Tatmadaw, el Ejército birmano, tras el frágil alto el fuego que ambos bandos habían mantenido desde hacía 17 años.
Según el coronel Zaw Tong, del Ejército para la Independencia Kachín (KIA), el conflicto se venía preparando durante meses, cuando el Tatmadaw decidió rodear una de presa que se estaba construyendo en el río Ta Ping, muy cerca del pueblo de Labang Hkwan Tawng. La zona se halla en el límite de la región que, según los términos del alto el fuego firmado en 1994 por ambos bandos, debía estar bajo el control del KIA/KIO y los kachín consideraron el movimiento de tropas un acto de agresión.
Durante los últimos meses, al mismo tiempo que el presidente Thein Sein iniciaba un incierto proceso de apertura política que ha recibido el apoyo, y hasta el aplauso, de una gran parte de la comunidad internacional, la guerra en el Estado Kachín no ha hecho más que recrudecerse. Y el futuro de Birmania probablemente se juegue tanto en la capital Nayipyidaw como en las remotas montañas del norte.
Las raíces del conflicto son tanto políticas como económicas. El KIO lleva luchando contra el Gobierno central desde su fundación en 1961, primero por la independencia y, a partir de mediados de los 70, por la autodeterminación dentro de un Estado federal, tal y como habían acordado los líderes kachín y otras minorías con el general Aung San, padre de Aung San Suu Kyi y artífice de la independencia birmana, en el Acuerdo de Panglong de 1947. El acuerdo contemplaba un Estado federal con autodeterminación y el derecho de secesión en diez años para las minorías étnicas que lo firmaron, pero, tras la muerte de Aung San pocos meses después, ningún Gobierno birmano lo ha respetado nunca.
Los kachín, en su mayoría cristianos baptistas y católicos, han vivido en esa región montañosa durante siglos, y tienen una lengua, una cultura y unas costumbres distintas a los bamar, en su mayoría budistas, que habitan las regiones centrales del país. Hasta la llegada de los colonizadores británicos en el siglo XIX, cuando Birmania, no existía como unidad política y territorial, los kachín, como muchas de las otras minorías que componen el complejo puzle étnico birmano, vivían de forma independiente y no estaban sometidos a los reyes birmanos de las llanuras centrales.
Por otro lado, el Estado Kachín es rico en recursos naturales. Cuenta con piedras preciosas, sobre todo jade, minas de oro, abundantes reservas de madera de teca y grandes recursos hidrológicos cuyo potencial no se ha escapado a la vista del Gobierno y los empresarios chinos. A lo largo de los últimos años, el Gobierno birmano ha estado entregando esos recursos a precio de saldo a empresarios chinos, lo que está dañando el ecosistema y ha supuesto la expulsión de numerosos agricultores kachín de sus tierras.
El Gobierno birmano recibe armas y el apoyo político de China, pero las relaciones del KIO con el gigante del norte son más ambiguas. Pese a no estar reconocido por ningún país ni organismo internacional, el KIO controla un mini-Estado a lo largo de la frontera con la provincia china de Yunnan y cobra impuestos a todos los camiones de mercancías que atraviesan su territorio de camino al país vecino. Al otro lado de la frontera, muchos habitantes pertenecen a la misma etnia kachín y, con frecuencia, los heridos más graves del KIA son enviados a hospitales chinos. Además, durante muchos años, el KIA luchó contra el Gobierno birmano al lado del desaparecido Partido Comunista de Birmania, que recibía el apoyo de Pekín.
En esta guerra sucia, ambos bandos han sido acusados de cometer violaciones de los derechos humanos. Según un informe reciente de Human Rights Watch el Tatmadaw ha llevado a cabo violaciones masivas y usado a civiles como porteadores y detectores humanos de minas y ambos utilizan minas antipersona y niños soldado. La Nan, el portavoz y subsecretario general del KIO, no niega las acusaciones pero las matiza: según él, el KIA cuenta con algunos niños soldado entre sus filas, pero no los recluta activamente ni los emplea para combatir, y las minas que utiliza se desactivan en dos meses. Dado el estricto control que el KIO ejerce sobre los periodistas que visitan su zona, resulta imposible corroborar la veracidad de esas afirmaciones.
También resulta imposible saber a ciencia cierta la cifra de víctimas mortales o incluso la de combatientes que toman parte en el conflicto. Zaw Tong, coronel del KIA, afirma que los kachín cuentan con 10.000 soldados, a los que hay que sumar 20.000 milicianos de las Fuerzas de Defensa de los Pueblos, un cuerpo de voluntarios que luchan a las órdenes del KIA. Según él, el último año han muerto en combate unos 200 soldados kachín y otros 200 han resultado heridos y podrían haber caído una cantidad hasta cinco veces mayor de soldados del Tatmadaw. Pero los dos bandos tienden a minimizar las bajas propias y a exagerar las ajenas y, sin observadores independientes sobre el terreno, los verdaderos hechos, como en tantos otros aspectos de una guerra casi totalmente oculta a los ojos del mundo, son un misterio.
En cualquier caso, el coronel Zaw Tong reconoce que "ninguno de los dos bandos podrá conseguir nunca una victoria militar clara", porque las fuerzas están bastante equilibradas. El Ejército birmano cuenta con más efectivos y un armamento más sofisticado, pero "nuestras tropas conocen mucho mejor un terreno sumamente escarpado y están bien entrenadas en la guerra de guerrillas". Como consecuencia de ello, el conflicto podría mantenerse casi indefinidamente.
El objetivo de ambos bandos consiste, por tanto, en poner contra las cuerdas militarmente al enemigo para tener una posición de fuerza en la mesa de negociaciones. Pero, hasta ahora, no se ha producido ningún avance. El principal obstáculo radica que ambos bandos parten de posiciones irreconciliables. Según Sumlut Gam, jefe del equipo de negociadores del KIO, el Gobierno birmano quiere acordar el alto el fuego antes de iniciar un diálogo político y el KIO exige un comienzo del diálogo como condición previa a un alto el fuego. Sumlut Gam sostiene que el Ejecutivo ya les engañó en 1994, cuando los kachín aceptaron el alto el fuego en primer lugar con la esperanza de que diera paso a un diálogo político que nunca se ha producido. "En aquel momento nos dijeron que el Ejército, que entonces gobernaba el país, no tenía legitimidad para llegar a un acuerdo político, que debíamos esperar a que hubiera un Gobierno civil para mantener ese tipo de diálogo", explica. Y ahora que en Naypyidaw hay un Gobierno oficialmente civil, aunque fuertemente controlado por los militares, llegar a un acuerdo entre ambas partes no parece más fácil que antes. Para el Ejecutivo birmano, la base de cualquier diálogo político ha de ser la Constitución aprobada en 2008, sumamente centralista. Para el KIO, el punto de partida ha de ser el Acuerdo de Panglong de 1947.
Mientras tanto, decenas de miles de refugiados permanecen en unos campos a los que la ayuda internacional llega con cuentagotas. Según Mary Tawn, cofundadora de la ONG local Wungpawng Ningthoi ("Luz para el pueblo"), la ayuda de organismos internacionales a los desplazados internos en territorio controlado por el KIO ha sido totalmente insuficiente, debido a que el Gobierno birmano se ha negado a dar los permisos necesarios. Como consecuencia, en los campos no siempre se dispone de los alimentos o medicinas suficientes.
En un contexto de aislamiento internacional casi total, los kachín se ven obligados a luchar y sobrevivir solos. Hasta el momento, y dadas las circunstancias, organizaciones locales como Wungppawng Ninthoi han realizado un trabajo ejemplar administrando los campos de desplazados internos, pero existe un peligro muy real de que el conflicto degenere en una auténtica catástrofe humanitaria de grandes proporciones.
jueves, mayo 24, 2012


Etiquetas: Aung San Suu Kyi, birmania, Derechos Humanos, Disidentes, Opositores, Universidad
viernes, noviembre 19, 2010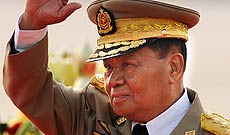 BIRMANIA Ascendió al poder en 1992
David Jimenez (E. Especial)
|
Rangún
El dictador birmano Than Shwe no tiene intención de suavizar la represión a pesar de liberar a Suu Kyi.


Etiquetas: birmania, Dictadores, Dictaduras
lunes, noviembre 15, 2010
domingo, noviembre 14, 2010
sábado, noviembre 13, 2010
JOSÉ REINOSO
La líder opositora y premio nobel de la Paz sale a saludar a miles de opositores, congregados a las puertas de su casa


Etiquetas: Aung San Suu Kyi, birmania, cubanos en el mundo, Disidentes
viernes, noviembre 12, 2010