El Blog de Medicina Cubana
Hemos recibido por correo electrónico esta nota sobre datos estadísticos que muestran en negocio de Cuba en la venta a otros países de sangre, humana. Se refiere sin duda a sangre sin embargo es probable que existan otros hemoderivados que son exportados , toda vez que en Cuba cuando se obtiene la sangre esta puede ser utilizada en la obtención de otros hemoderivados también de amplia demanda y por los cuales se pueden obtener buenos dividendos. Completamos la información con el artículo: La exportación de sangre cubana: un negocio escandaloso.
Hemos incluidos en nuestro portal www.ArchivoCuba.org (ver Informes) las estadísticas de las ventas anuales y por país de las exportaciones de sangre de Cuba para el período 1995-2010. Esta información complementa el reciente informe titulado La Exportación de Sangre Cubana: Un Negocio Escandaloso.
Para los 16 años de estadísticas disponibles, Cuba exportó sangre valorada en $460 millones de dólares a un promedio anual de $31 millones en 1995-2002 y $27 millones en 2003-2010. Los principales países a los cuales Cuba exportó sangre fueron Brasil en 1er lugar desde 2007, Venezuela en 1er lugar en el 2006, Argentina pasando a 3er lugar en el 2009 y a 2do lugar en el 2010, Vietnam en 2do lugar en el 2009, Irán en 1er lugar casi siempre entre 1997 y 2003 y Rusia en 1er lugar en el 2004.
Data on sales by year and by country for Cuba's blood exports for the period 1995-2010 has been posted on our website www.CubaArchive.org (see Reports). This information furthers our recent report Cuba's Blood Exports: A Scandalous Business.
For the 16 years for which statistics are available, Cuba exported almost half a billion dollars in blood ($460 million), at an average of $31 million per year from 1995-2002 and $27 million from 2003-2010. The primary countries to which Cuba exports blood are Brazil in 1st place since 2007, Venezuela in 1st place to 2006, Argentina rising to 3rd place in 2009 and 2nd place in 2010, Vietnam in 2nd place in 2009, Iran mostly in 1st place from 1997 to 2003, and Russia in 1st place in 2004.
El 26 de julio de 2013, apareció en el diario El País de Montevideo la noticia de que Cuba había vendido a Uruguay "sangre humana o animal para uso terapéutico" por un importe total de $ 0 .9 millones. 1 En un editorial posterior se especificó que las importaciones habían consistido fundamentalmente en sangre humana.
Con toda probabilidad, la mayoría de los ciudadanos de Uruguay carecen de información acerca del origen y la manipulación de este suministro o de sangre. Mientras tanto, las estadísticas del gobierno cubano, que no se distinguen precisamente por su transparencia, no proporcionan informe alguno sobre ventas de sangre y, además, sólo ofrecen datos hasta el año 2011.
En el sistema sanitario cubano bajo absoluto control del Estado, para poder ingresar en un hospital o someterse a cualquier operación quirúrgica, incluso a un aborto, todo ciudadano debe donar sangre (salvo la nomenklatura de mayor rango ) . (Usualmente, son los familiares del paciente quienes hacen la donación de sangre, pero a veces la familia paga a terceros por cumplir con el requisito.) Sin embargo, en Cuba no existe déficit alguno en el suministro de sangre; el gobierno informa a la Organización Mundial de la Salud y a la Organización Panamericana de la Salud (OMS/OPS) que cuenta con el 100% de "donantes voluntarios y altruistas."
Los donantes cubanos ignoran que su gobierno utiliza su sangre como materia prima de un floreciente comercio internacional. Mientras tanto, la mayoría de los cubanos, exceptuando a la privilegiada élite gobernante, vive míseramente a causa de la economía socialista centralizada que ese mismo gobierno les ha impuesto; el salario medio mensual en la isla es de 466 pesos, equivalente a 19 dólares mensuales o 63 centavos al día.
En Cuba las campañas de donación de sangre son ritual es revolucionarios. Se promueve la donación de sangre como un deber cívico para salvar las vidas de compatriotas o de víctimas de desastres en otros países. En el decenio de 1980, se le da aún mayor impulso con el supuesto objetivo de proteger al país de la nueva epidemia de SIDA con la eliminación de toda importación de sangre.
Con el expreso objetivo de alcanzar la autosuficiencia en la producción de sangre y componentes sanguíneos, se creó una empresa estatal que luego pasó a formar parte de un lucrativo negocio de exportación dentro del "polo científico".
Los Comités de Defensa de la Revolución enclavados en los barrios, han desempeñado una función esencial en la promoción de las donaciones de sangre voluntarias. Ofrecen diplomas y medallas a los donantes y a los "buenos revolucionarios" que donan sangre y hasta hace poco atribuían dádivas en forma de televisores, neveras y otros bienes de consumo escasos. Habida cuenta la escasez crónica de alimentos que padece la población, el bocadillo de queso y e l jugo aguado que se les suministra a los donantes es el único aliciente que tienen en la actualidad la gran mayoría de los donantes. Se requiere a las personas donar sangre en sus centros de trabajo, especialmente a los miembros de la policía, fuerzas de seguridad y fuerzas armadas.
A los reclutas que cumplen los dos años del servicio militar obligatorio se les ha exigido que donen sangre si quieren recibir los pases de 48 horas que les permiten visitar a su familia cada 15 días – una práctica que probablemente todavía está en vigor.
Los autobuses móviles especialmente preparados para la recolección de sangre visitan las cárceles, donde abundan los donantes hambrientos; éstos probablemente también reciben recompensa por ese buen comportamiento. Y lo que es aún más escalofriante, se ha convertido a muchas personas en "donantes permanentes" mediante el uso de argumentos falsos y ofreciéndole solo una ración alimenticia ligeramente mejor que la promedio.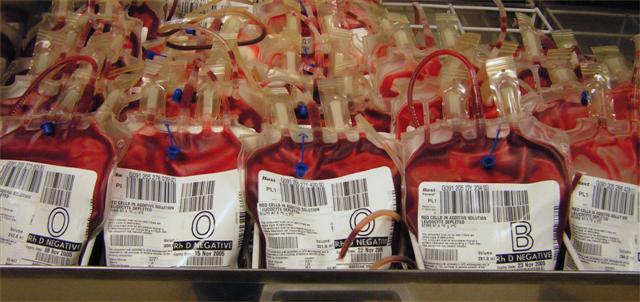 Sin disponer de una base científica contrastada, las autoridades sanitarias le comunican a la persona que, a menos que siga donando sangre periódicamente, padecerá de un exceso de glóbulos rojos que podrá en peligro su salud.
Juan Pérez Cabrera se rehusó a dar su sangre antes de su fusilamiento y lo mataron de un tiro en la cabeza. 15 de abril de 196 3. © Free Society Project, 2014.
En la bahía de Navas, provincia de Oriente, parte de un grupo de unos 30 hombres que se disponían a iniciar un movimiento insurreccional. Los expedicionarios fueron capturados; inmediatamente un tribunal revolucionario condenó a muerte a Fuller, a otros dos estadounidenses y a cinco cubanos. La ejecución se llevó a cabo en un estadio, en un ambiente de circo, con miles de personas gritando enardecidas. Momentos antes del fusilamiento, a su tío y su primo les permitieron verlo. Fuller estaba muy débil, casi no podía mantenerse en pie y tenía las m anos heladas. Les dijo que le habían extraído de manera forzosa un gran volumen de sangre. Su familia supuso que lo habían hecho para darle un aspecto de debilidad y cobardía; desconocían que el gobierno cubano exportaba sangre.
Un ex preso político cubano que estuvo encarcelado de 1963 a 1968 en la prisión de Boniato, en Santiago de Cuba, declaró a Archivo Cuba: "En 1963, éramos unos 5.000 presos políticos en Boniato. Cada madrugada, traían a dos o tres condenados que iban rumbo al paredón de fusilamiento a una zona especial del hospital de la prisión donde a puertas cerradas les sacaban la sangre. Como soy inválido, me mantenían allí, en lo que ll amaban "el hospitalito." Aunque no nos dejaban ver a las víctimas, yo estaba a unos 20 metros de esa habitación y podía oír todo. Se lo hicieron a todos los que iban a fusilar".
A continuación se señalan los casos documentados de extracción de sangre antes de la ejecución (para los detalles, vea www. CubaArchive.org /database/. ) 1. Howard Anderson, 19 4 61, Pinar del Río. 2. Antonio Covela, 11 9 1963, La Cabaña, La Habana. 3. Raúl Díaz Naranjo, 15 8 64, Holguín. 4. Robert Fuller, 10 16 1960, Santiago de Cuba. 5. Pedro Gutiérrez Campos, 1964, Las Villas. 6. Oscar Hernández, 9 24 1962, Las Villas. 7. Florencio Recino, 28 3 62, Las Villas. 8. José Rodríguez Ocampo, 2 11 63, La Cabaña, La Habana. 9. Ignacio Rosell Leyva, 1 11 59, Las Villas. 10. Elizardo Santana Bonilla, 13 3 62, Las Villas. 11. Allen Dale Thompson, 10 16 1960, Santiago de Cuba. 12. Anthony Zarba, 10 16 1960, Santiago de Cuba.
¿Es segura la sangre que Cuba exporta? La recolección, evaluación, almacenaje, clasificación y transportación de la sangre y sus derivados depende de la selección apropiada de los donantes, equipo adecuado, personal bien adiestrado, administración eficiente, buenas prácticas y regulaciones así como control de calidad. La Organización Mundial de la Salud (OMS) tiene un protocolo mandatorio para la recolección de sangre, sin embargo: "cada autoridad nacional debe decidir por su cuenta si el costo de aplicar los análisis más meticuloso s a cada donación de sangre..."
Cuba reporta 100% de análisis en sus donaciones, pero el estado es dueño de todo el sector de la salud, no hay agencias monitoras i n dependientes y puede fácilmente manipular el escrutinio por parte de organismos internacionales. Un doctor en medicina cubano exiliado en el 2010 relata que su padre murió en el 1995 de una hepatitis viral contraída de una transfusión de sangre contaminada.
Ignacio Estrada, Coordinador de la Liga Cubana Contra el SIDA, un grupo independiente, informa que los bancos de recolección de sangre en los centros provinciales son adecuados, pero que no hay condiciones de almacenaje en otras localidades del país. Confirma que no se permite donar sangre a individuos y que no hay constancia de ningún caso actual de contaminación con SIDA en el suministro de sangre, aunque supieron de varios casos en los años 1990s.
En China, sin embargo, a mediados de los 1990s, el gobierno comunista restó importancia y ejerció una feroz represión ante una epidemia de SIDA que devastó a la población de la provincia de Henan por motivo de donaciones de plasma contaminado. En efecto, comprar sangre a un estado totalitario en crisis económica conlleva riesgos extraordinarios.
A Robert Fuller se le extrajo la sangre antes de fusilarlo el 16/10/ 1960.
Usted puede leer este informe en Ingles haciendo CLIC AQUÍ o en el titulo siguiente:
*María C. Werlau. President of the Board & Cuba Archive Executive Director. Consultant in private practice, policy analyst, author of wide-ranging writings on Cuban affairs, and longtime human rights' advocate. Formerly a Second Vice President of the Chase Manhattan Bank, Ms. Werlau holds a Bachelor of Science in Foreign Service from Georgetown University and a Masters in International Relations from Universidad de Chile. She lives between the greater New York City area, Miami and Puerto Rico.