CONTRA EL PINGALISMO CASTRISTA/ "Se que no existe el consuelo que no existe la anhelada tierrra de mis suenos ni la desgarrada vision de nuestros heroes. Pero te seguimos buscando, patria,..." - Reinaldo Arenas
miércoles, enero 21, 2015
viernes, enero 16, 2015
WSJ
By
Michael M. Phillips
NAVAL STATION GUANTANAMO BAY, Cuba—In 1961, Ramon Baudin got wind that Fidel Castro 's security forces were looking for him. He hid in a bus headed to this U.S. military base, sneaked past a police checkpoint, then pleaded with the American sentry: "Hey, buddy, I'm running away. Open the gate."
Mr. Baudin has been here ever since, part of a small group of Cuban exiles who, in a hot moment of the Cold War, won permission from the U.S. government to stay at the Guantanamo Bay Naval base until Cuba was free.
For more than 50 years, the exiles have waited out Mr. Castro, circumscribed by a 17-mile razor-wire fence that separates their present from their past. They have married and divorced, had jobs and children. They have danced at base clubs and drunk at base bars. They play dominoes and listen to singer Celia Cruz. They have also seen their adopted home become synonymous with prisoner abuse since the U.S. housed nearly 800
terror suspects here
.
Ramon Baudin, 92 years old, is one of the oldest of the 23 Cuban exiles living at the U.S. Naval Station Guantanamo Bay.
Brandon Thibodeaux for The Wall Street Journal
The ill are treated at the Navy hospital, and the dead buried by the beach in the base cemetery, alongside sailors and Marines who perished in the tropics 100 years ago.
"I thought I was only going to be here for six months," said Mr. Baudin's neighbor Noel West, 81 years old.
With few exceptions, they have never returned home. Many have made their way to the U.S. But a core group chose to stay, even though they acquired U.S. citizenship or residency. The U.S. Navy provides them free housing, utilities and medical care, along with subsidized meals at base mess halls.
"At the time, the Navy offered them safe haven, and we said, 'Hey, you're welcome to stay here until this gets resolved,' " said the base commander, Navy Capt. John Nettleton. "And here we are half a century later, and they're still here."
Now, the two-dozen remaining exiles are aging at a pace that is outstripping the Navy's ability to care for them. The Navy flies the seriously ill to military hospitals in the U.S. Navy personnel have converted former nurses' quarters at the base hospital into a 24-hour assisted-living facility. Government drivers transport the Cuban exiles to doctor appointments, exercise classes, McDonald's and the all-in-one base store, the Navy Exchange.
U.S. troops landed at Guantanamo Bay during the Spanish-American War of 1898, and in their victory over Spain signed a perpetual lease that can only be canceled by mutual agreement between Havana and Washington.
Thousands of Cubans once commuted to base jobs. But relations with the U.S. soured quickly after Mr. Castro seized power in 1959, with the countries severing diplomatic ties in 1961.
The Guantanamo Cubans have been buffeted by the long conflict between the U.S. and Cuba, as well as the personal decisions they made long ago. When Washington and Havana were inches from war in the 1960s, the exiles found shelter on the base but gave up their homes and families.
For now, the Guantanamo Cubans are staying put, accustomed to the narrow but easy life on the military base, and skeptical that warmer ties with the U.S. means the Cuban regime would treat them well if they returned home.
"It's kind of early," said exile Ramon Romero, who took refuge on the base in 1960, at age 17. "You can never trust Castro because he can say one thing and turn around and do another thing."
At 92, Mr. Baudin is one of the oldest of the 23 Cubans—known officially as special category residents—remaining on the base.
He says he isn't homesick. But every day after the sun comes up, he settles into a white plastic chair under the roof of his carport and switches on a portable radio. Despite a broken antenna, it picks up a station from Caimanera, a town just outside of the barbed wire. Between news broadcasts and fast-paced guarachas, he listens for obituaries of long-lost friends.
"I can't go there anymore," he said of Caimanera, drawing a finger across his throat. "They'd kill me."
A Cuban government spokesman in Washington didn't return calls or emails seeking comment on whether the exiles would face legal or political peril if they returned home.
Mr. Baudin took refuge on the base when Cold War tension was aggravated by the botched 1961 Bay of Pigs invasion and the Cuban missile crisis a year later.
Mr. Baudin was engaged to a woman in Caimanera when he learned that regime security men were after him. He never had a chance to explain his disappearance. He heard she married a milkman.
For work, Mr. Baudin was a caddie on the base golf course, then spent decades pressing uniforms in the laundry. He remembers good times with his Cuban friends here, fishing in the bay and drinking rum on the beach.
Most of them are dead now. Mr. Baudin wakes at about 3:30 each morning and meditates. Then, before dawn, he walks the streets, talking, he says, with the ghosts of his fellow exiles: He sees Gustaff Polica, who raised two children on Guantanamo and whose body is buried in the hills. He spots a woman in white who went home to Cuba to die with her family after decades at Guantanamo.
"I pray for my dead friends," Mr. Baudin said. "They're by my side. They watch over me."
Most of the Cubans live in a neighborhood of flat-roofed concrete houses built in 1960, their pastel blues and greens faded by the sun. From his window across the way, Mr. Romero often watches Mr. Baudin pass under a streetlight on his predawn walk.
As a boy, Mr. Romero accompanied his grandfather on a 30-foot banana boat, steering it along the shore. They stopped at the base each day to sell fruits and vegetables.
By 1960, the family's standing with the Castro government had become precarious. Two of Mr. Romero's cousins had been killed, and another was languishing in prison, he said.
A home in the neighborhood where most of the 23 remaining Cuban exiles live.
Brandon Thibodeaux for The Wall Street Journal
Mr. Romero's grandfather, who cared for the boy, sent Mr. Romero to live on the base. "My grandfather said, 'Stay here, otherwise you'll be in jail or dead,' " Mr. Romero, now 71, recalled. "So I've been here ever since."
Mr. Romero at first cried himself to sleep on the boat's wooden seats. He eventually lived with a teacher from the base school, and then with the man who ran the lighthouse. Over the years, Mr. Romero worked as a janitor, firefighter and heavy-equipment operator. His favorite job was running and fixing the projector at the open-air base theater, the Lyceum. He retired with a small pension in 1998.
He built a dock among the mangroves behind his house and spends hours on a pontoon boat fishing for mackerel and downing cans of Miller Lite. He shies away from other exiles, wary of gossip. "I like to be by myself," he said.
Capt. Nettleton worries what will become of the Cubans as they grow infirm. One exile was flown to the U.S. for dialysis. "I don't envision us forcing them to go and leave the island, because of the commitment we previously made to them," the captain said. "But it may come to that."
Navy officials can't find the documents that laid out the Kennedy administration's original promise. The broad outlines have been passed down from one base commander to the next, reinforced by a 2006 law authorizing the Navy to "provide for the general welfare, including subsistence, housing, and health care" of the Cuban residents.
Exile Phillip Gayle has married three times since moving to the base in 1965. He buried one wife and divorced another. He now shares a room with his third wife in the assisted-living facility the Navy built to care for the aging Cubans.
His wife, Felicita Gayle, is 95 years old. Her health troubles require round-the-clock aides. "She put light back in my life when my life was dim," said Mr. Gayle, who is 80.
He works off his stress at Zumba classes in the base gym. An energetic Spanish-speaking instructor leads the exiles—one of them is in a wheelchair—in dance moves to the song, "I'm Sexy and I Know It."
Mr. Gayle thinks often of the 3-year-old son he left behind when he fled Cuba. His son later joined the Cuban army and fought in Angola when Mr. Castro intervened to support the leftist government there.
"If Cuba is free and I die here, bury me over there," Mr. Gayle said. "As long as Cuba isn't free, bury me here."
The Naval cemetery is set amid underground ammunition bunkers. Among the hundreds of white-marble gravestones are 21 with the words "Cuban Exile" engraved beneath the names.
The U.S. continues to write the Cuban government an annual rent check of $4,085 for use of the base, a figure set in 1934. Each year, Havana signals its disapproval of the U.S. presence by refusing to cash it.
At one point in the 1960s, the Castro regime planted a wall of prickly plants to stop Cubans from seeking refuge on the base. The Americans dubbed it the Cactus Curtain.
In 1964, the Castro regime cut off water and power to the base. In response, President Lyndon B. Johnson dismissed most of the Cubans who commuted onto the facility. By that time, hundreds of Cubans—opponents of the Castro government—had already secured the Navy's permission to live on the base indefinitely.
By 1987, the number of Cuban exiles on the base had dropped to 80. Today, there are 28 special category residents, including five Jamaicans who had won the status through marriage to exiled Cubans.
Capt. Nettleton estimates the Navy spends about $200,000 a year on salaries for civilian aides who assist the elderly Cubans. The Navy said it had no estimate of the cost of providing housing, utilities, medical care and other services for the exiles.
Cuban exiles gather for a prayer inside the Cuban Community Center on the base.
Brandon Thibodeaux for The Wall Street Journal
Gloria Martinez, an 81-year-old cancer survivor, said she has stayed on the base in part because of the promise of lifetime care. Her late husband was a Cuban army sergeant in the 1950s who fought against insurgents led by Raúl Castro, Fidel Castro's brother and now Cuba's president.
In 1959, Ms. Martinez's husband, Eduardo Martinez, got a job helping build the base bowling alley. Each night he returned to the Cuban side of the fence.
As the Castro regime cracked down on opponents, the couple's house was repeatedly searched, Ms. Martinez recalled. She kept two hand grenades hidden in the house and said she had planned to use them if her husband ever faced a firing squad. She sealed her husband's army medals in a jar and buried them under the patio.
"I told my husband they were looking for him, and he was never to come back to our home," Ms. Martinez said.
One day in 1961, Mr. Martinez went to work on the base—and stayed. Ms. Martinez remained behind for a short time before making her own move. She glued her photo onto someone else's ID card and headed to the base, repeating her fake name to herself: Jorgelina, Jorgelina. Jorgelina.
At a checkpoint, she recalled, the Cuban guard asked her name. Her mind went blank and she held up the ID card. "Ah, Jorgelina," the guard said.
That was the last time she set foot on the Cuban side, she said. On the base she worked giving haircuts to Marines.
Their two children, now in their 40s and living in the U.S., were born on the base. Her husband died in 1988. When she fell ill with kidney cancer the following year, she was treated at a U.S. military hospital in Washington, D.C.
At the time, she worried if she moved to the U.S. she would lose her subsidized health care. Mostly, she said, she doesn't want to leave Cuba, whose mountains are visible from her window. She has sisters living in Guantanamo City, an hour's drive from her house, if such a drive were ever permitted.
"I'm close to my family here," she said, "even though I don't see them."


Etiquetas: Cuba-Estados Unidos, cubanos en el mundo, Emigracion cubana, Guantanamo, Refugiados, tragedias
jueves, enero 15, 2015
Decades of U.S. trade and travel restrictions on Cuba will come to an end on Friday, the government announced in the first tangible step towards restoring diplomatic ties between Washington and Havana.
New rules will allow Americans to travel to the country without a license - as long as they go for approved reasons - and use their U.S. credit or debit cards, the U.S. Departments of Commerce and Treasury said in a statement.
Cubans living in the U.S. will also have their quarterly remittances increased from $500 to $2,000 per quarter, allowing them to send home more money.
Officials said approved reasons for travel include business or family visits, and that tourism from the U.S. to Cuba was still prohibited by Congress.
Travel agents and airlines will be authorized to provide services without needing a specific permit under the new rules. That means U.S. airlines could soon be free to launch normal scheduled flights to Cuba.
"Today's announcement takes us one step closer to replacing out of date policies that were not working and puts in place a policy that helps promote political and economic freedom for the Cuban people," Treasury secretary Jacob Lew said in a news release.
"Cuba has real potential for economic growth and by increasing travel, commerce, communications, and private business development between the United States and Cuba, the United States can help the Cuban people determine their own future."
However, U.S. Senator Marco Rubio (R-FL) called the new rules "a windfall for the Castro regime" and said the recent deal "is enriching a tyrant and his regime at the expense of U.S. national interests and the Cuban people."
miércoles, enero 14, 2015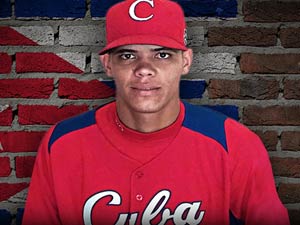 El lanzador pinero Yoan López
Por Eric Reynoso
El lanzador pinero Yoan López acaba de firmar un contrato con los Diamondbacks de Arizona por una cifra récord para un jugador internacional con menos de cinco temporadas jugadas en la pelota de su país: $8.27 millones.
La bonificación de López, de 21 años, fue confirmada por el gerente general de la franquicia, Dave Stewart, quien dijo que el contrato solo espera por un examen físico al atleta. Es el mayor acuerdo financiero con un pelotero cubano bajo las nuevas directrices para contratación de figuras internacionales.
Los Diamondbacks ganaron en la porfía entre otros cuatro equipos que buscaban los servicios de López, una de las gemas en bruto de la pelota cubana. Los Yankees, los Dodgers, los Padres y los Rojos entraron en la carrera final por el lanzador cubano, que escapó rumbo a Haití y se radicó en República Dominicana el pasado año. Una ruta ya más que conocida por sus compatriotas del béisbol y las fugas.
El Convenio Colectivo de Trabajo de Grandes Ligas estipula que cada equipo tiene $700,000 dólares y un bono basado en el registro del equipo durante la temporada anterior, que de rebasarlo está sujeto a un impuesto del 100 por ciento.
Una transición suave
Sin embargo, todo indica que López rechazó un bono de $9 millones con los Yankees, considerando que Arizona sería un mejor lugar para hacer su transición más sosegada, con menos presiones y exigencias.
Al parecer fueron decisivas las gestiones de Stewart y de Tony La Russa, jefe de los asesores técnicos del equipo de Arizona. Los D-balcks han contratado al entrenador y ex lanzador cubano Ariel Prieto para ayudar en la preparación y los ajustes de López, que estará en el entramiento de primavera con la opción de ganarse un puesto en la nómina.
Para los D-backs se trataba de asegurar el negocio, pues están urgidos a toda costa de lanzadores para la venidera temporada, considerando que dos de sus astros de la lomita, Patrick Corbin y el semicubano Bronson Arroyo están en rehabilitación con cirugía del codo desde el pasado verano y sus respectivos regresos al equipo están bajo una incógnita.
Es como tener dos selecciones de primera ronda en el mismo año", dijo Stewart, en referencia a la anterior inversión cubana de los Diamondbacks, que firmaron al toletero Yasmani Tomás por $68.5 millones a fines del 2014.
López, un espigado pitcher de 6.4 pies, tira una recta cortada y un buen cambio, tiene una curva muy efectiva y domina un slider que debe perfeccionar todavía, pero su mejor recurso es una bola rápida de 95 a 100 millas.
Caldo cubano en ebullición
El caldo cubano en Grandes Ligas sigue en ebullición. La pasada semana los Angelinos de Los Angeles confirmaron la entrega de un bono de $8 millones a Roberto Baldoquín, un prometedor jugador de 20 años que jugó tres temporadas con Las Tunas pero que tiene todavía todo por demostrar en la pelota de altos quilates. Y a finales de diciembre, el jardinero villaclareño Dian Toscano, de 25, recibió un contrato de $6 millones por cuatro años con los Bravos de Atlanta, con la opción de extenderlo a cinco años por $1.5 millones más.
Son buenas noticias para sus coterráneos de Isla de la Juventud, el segunda base Andy Ibánez, de 21 años, y el lanzador Jorge Despaigne, de 23, que aguardan aún por firmar con un equipo después de ser declarados agentes libres. También para el cienfueguero Yoan Moncada, de 19, tal vez el prospecto más codiciado entre todos en el mercado.
Lo cierto es que los cazatalentos están urgando a fondo en la pelota cubana, pero centrados no tanto en las figuras establecidas de la selección nacional como en los novísimos que puedan representar jugadores de éxito a mediano y largo plazos.
Unos 70 jugadores cubanos aguardan aún con el permiso de la Oficina de Control de Bienes Extranjeros (OFAC) del Departamentov del Tesoro, o esperan por su otorgamiento para entrar al ruedo de las Grandes Ligas.
Ya vienen llegando
A estos habrá que sumar pronto al lanzador Yunieski García Viera, de 23 años, quien escapó recientemente de la isla, dejando colgada su participación con Artemisa en la actual 54 Serie Nacional. Y los también ex miembros de la preselección nacional, el lanzador Julio Alfredo Martínez, de 23, y el catcher Lorenzo Quintana, de 25, quienes fueron sancionados por pedir la baja del equipo Pinar del Río en medio de la contienda por el campeonato.
Martínez y Quintana están sujetos a restricciones migratorias, pero se cae de la mata que abandonarán la isla en la primera oportunidad, igual que el matancero Guillermo Heredia, a quien la Comisión Nacional de Béisbol lo ha suspendido por cuatro años. Heredia, de 23, es uno de los 15 mejores prospectos residentes en Cuba que han fichado los cazatalentos estadounidenses y su aparición en la pelota estadounidense parece ser solo una cuestión de tomar el camino recorrido por los demás.
La pasada semana, el flamante Comisionado de Béisbol, Heriberto Suárez acaba de afirmar en efectivamente el "fenómeno migratorio" ha golpeado a la pelota cubana, pero que los campeonatos nacionales no dejarán de tener brillo. La tarea, señor Suárez, será cuesta arriba y no creo que haya mucho que hacer para componer una batea que hace agua hace rato.
Hoy 14 de enero, hace 53 años, se estaban inaugurando las series nacionales, con Fidel Castro bate en mano, prometiendo el fin del profesionalismo y tejiendo un sueño que se ha convertido en pesadilla para la dirigencia deportiva y pasado imperfecto para las jóvenes generaciones de jugadores.
Son las leyes del mercado y del sentido común. Si no, pregúntele a Yoan López.


Etiquetas: Cuba, Emigracion cubana, Guantanamo, Muertes del Castrismo
martes, enero 13, 2015
AmericaTeVeCanal41
----------------
Ver tambien:
http://cubaindependiente.blogspot.ca/2015/01/the-cuban-criminal-pipeline-part-i_10.html
http://cubaindependiente.blogspot.ca/2015/01/the-cuban-criminal-pipeline-part-ii.html


Etiquetas: Cuba-Estados Unidos, Emigracion cubana, Fraude, Medicare, Viajes a Cuba
lunes, enero 12, 2015


Etiquetas: Balseros, Cuba-Estados Unidos, Emigracion cubana
cubaconfidential
Josefina Vidal thrown out of the US in May 2003 for espionage
By Chris Simmons
The next round of US-Cuban discussions will be held on January 21 and 22 in Havana. Deputy Assistant Secretary Alex Lee is expected to lead the U.S. delegation at the migration talks on the 21st, while Assistant Secretary of State for Western Hemisphere Affairs Roberta Jacobson will lead at the normalization talks on Jan. 22nd.
The Cuban delegation is expected to be led by Josefina Vidal, director of the North American Affairs Division within Cuba's Ministry of Foreign Affairs. Vidal led the previous round of migration talks last July in Washington, D.C. A member of the Communist Party of Cuba's Central Committee, Vidal was thrown out of the US in May 2003 as part of a mass expulsion of Havana's spy-diplomats. For five years, her office also played a central role in the negotiations regarding the return of USAID contractor Alan Gross
miércoles, enero 07, 2015
Recovered paintings are pictured during a news conference at FBI Headquarters in Los Angeles, California, Dec. 19, 2014.
MIAMI—
When Gil Marmol and his family fled Cuba in 1961 the revolutionary government seized 17 paintings that they left behind, including two watercolors by Mexico's Diego Rivera.
Years later, he discovered that one of the works was smuggled abroad and then sold at auction in New York in 1995 to an unknown buyer. That was the only real trace of the Marmols' collection, just some of the artwork confiscated in the early years of the revolution that will prove difficult to recover even as the island normalizes relations with the United States.
Cuban Americans like Marmol could be fighting for decades more to win back paintings and other artwork lost in Cuba due to protracted legal struggles and because many of the items have disappeared.
"I encourage people to seek their property ... but finding movable items like paintings or jewelry is particularly difficult," said Tania Mastrapa, a consultant on property rights in former Communist countries.
For example, descendants of White Russians who lost property in the Russian Revolution a century ago are still trying to recover paintings to this day, she said.
In the early 1960s, specialized Cuban government teams sealed the homes of wealthy exiles and took away paintings, antiques and jewelry. Some of the goods, such as one of the world's largest collections of Napoleonic memorabilia that was amassed by sugar baron Julio Lobo, were housed in Cuban museums where they remain. The Cuban government says it now owns works like that because they were abandoned.
Other confiscated pieces were auctioned off to the public or smuggled overseas, mostly to Europe, either by corrupt Cuban officials or by the government itself when it needed hard currency, art experts say.
While political change in Cuba will take years despite improved relations with the United States, Cuban Americans hope that Havana will eventually return confiscated homes, businesses and artwork or compensate them.
The art seized ranges from family portraits of little financial value to Cuban and European paintings from the 19th and early 20th centuries, Mastrapa said. One wealthy family, the Fanjuls, lost an art collection valued at up to $60 million. It included more than a dozen works by Spanish impressionist Joaquin Sorolla and a Michelangelo pencil drawing.
Hundreds of claims
There could be hundreds of claims for works of art as Cuba and the United States restore relations, said Mari-Claudia Jimenez, a New York lawyer who specializes in trying to recover confiscated art from Cuba.
But the government and courts in the United States are limited in what they can do to win reimbursement for artwork, businesses and property owned by individual Cuban Americans as most of them were not U.S. citizens when they fled Cuba.
Cuban exiles might have to wait until Cuba opens up and then go to court there to seek restitution.
"We get calls once every few months from someone who is looking to recover their artwork and certainly I think there has been an increase in those calls lately," said Jimenez, of law firm Herrick, Feinstein LLP. "People are starting to ready themselves to try to think of 'How am I going to deal with going back to Cuba? Am I going to get anything back?"'
She says she tells potential clients that it is too early to know how Cuban politics will play out but that now is a good time to start assembling documents proving ownership.
In a few cases over the years, auctioneers have mediated between the original owners of valuable items seized in Cuba and later buyers of the confiscated works to resolve claims.
No one has a definitive dollar figure for the artwork, antiques and other valuable assets seized in Cuba.
Fruitless search
Before making any claims, Cuban Americans first have to find their art.
Exile Marmol, 61, tried to track down his family's paintings after his father died in 2009 but it was a frustrating search.
The Dallas-based businessman located only one piece: the painting "Hombre Cargando Alcatraces" by Rivera. He discovered through searching the Internet and speaking to a friend in the auction world that the painting had been sold by Sotheby's in New York for $145,500 in 1995.
He said Sotheby's refused to tell him who bought the painting because of client confidentiality but they wrote to the buyer to point out his claim of ownership.
"The purchaser responded that he did not recognize the painting, that he had no record of purchasing it and he maintained this position," said Marmol.
Sotheby's in New York confirmed Marmol's version of events but declined to comment further.
martes, enero 06, 2015
Por Wilfredo Cancio Isla
En un intento por desalentar el preocupante incremento de viajes ilegales desde Cuba, las autoridades estadounidenses reiteraron este lunes que la política de inmigración y las operaciones de los guardacostas se mantienen sin cambios en el Estrecho de la Florida, e insistieron que solo el Congreso puede alterar las leyes vigentes respecto a los refugiados cubanos.
La advertencia gubernamental trascendió en un comunicado emitido por el Servicio Guardacostas, luego de producirse un inusitado crecimiento en el flujo de operacionjes ilegales desde Cuba durante la segunda mitad de diciembre y los primeros días de enero, coincidiendo con el anuncio del presidente Barack Obama para normalizar las relaciones con La Habana.
Un total de 890 cubanos han sido interceptados en el Estrecho de la Florida y en la zona del Caribe, o han logrado llegar a las costas estadounidenses desde que comenzó el año fiscal 2015, el pasado 1 de octubre. De ellos, 577 lo han hecho durante diciembre y los primeros días de enero en una escalada que ha disparados las alarmas en Washington y la comunidad de Miami.
Oleaje después del 17 de diciembre
Después del anuncio de Obama, los cubanos capturados en el mar suman 421.
"El anuncio reciente de la Administración respecto a Cuba [el 17 de diciembre] no afecta las políticas de inmigración, que incluyen la orden de pies secos /pie secos mojados y la Ley de Ajuste Cubano [CAA], que solo puede cambiar el Congreso de Estados Unidos", dijo el comunicado obtenido por CaféFuerte.
La exhortación alertó que las operaciones del Servicio Guardacostas en el Estrecho de la Florida y el Golfo de México siguen en efecto, y alertó que sus efectivos mantienen una agresiva presencia en la región paradesalentar las travesías peligrosas y mortales desde la isla.
"Las personas deben tener un visado u otro permiso para viajar a Estados Unidos y cualquiera que sea localizado en el mar será devuelto a Cuba, de acuerdo con las leyes de inmigración", agregó el comunicado.
Es la segunda nota de alerta que envía el Servicio Guardacostas desde que el presidente Obama anunció el cambio de política a la isla, lo cual generó expectativas y rumores dentro de la isla sobre el fin de los beneficios migratorios que gozan los ciudadanos cubanos mediante la CAA, establecida de 1966.
Advertencia repetida
El pasado 18 de diciembre, apenas 24 horas después del discurso de Obama, el Servicio Guardacostas se vio obligado a emitir un
primer comunicado
aclarando que sus operaciones se mantenían sin cambios y desalentando fuertemente los intentos de inmigrantes cubanos para llegar a territorio estadoundense por vía martítima.
El incremento de la inmigración ilegal desde Cuba parece impulsado por versiones infundadas de que la entrada en funciones del nuevo Congreso de Estados Unidos, con mayoría republicana en ambas cámaras a partir de este 5 de enero, echaría abajo la CAA y otros decretos administrativos que favorecen a los refugiados cubanos.
Las cifras de diciembre resultan altamente significativas: 481 cubanos se han lanzado al mar en 37 operaciones marítimas desde la isla, un alza del 117 por ciento con respecto al mismo período del 2013. Y en solo cinco días de enero, 96 cubanos han sido ya interceptados en el Estrecho de la Florida.
La estampida marítima de cubanos ya vivió la primera tragedia en la arrancada del nuevo año. Un cubano llamado Manuel Marino, de 50 años, se ahogó este sábado cuando la embarcación donde viajaba se volcó, con otros tres inmigrantes, frente a las costas de Islas Cayman.
Sobrevivientes de la tragedia
Los sobrevivientes fuero identificados como Dailer Pérez Arresoitia, de 27 años, Diosul Alarcón Barrero, de 37, y Lety Sánchez Fonseca, de 33, todos de Santa Cruz del Sur, Camagüey. Lograron salvar la vida aferrados a dos tubos internos, con la ayuda de surfistas locales.
Los tres cubanos quedaron arrestados por las autoridadesde Islas Cayman y pudieran ser devueltos a Cuba.
Durante el 2014, la cifra de capturados en el Estrecho de la Florida se elevó a 2,059, la mayor desde el 2008. En el recién concluido período fiscal las aventuras marítimas en embarcaciones rústicas y operaciones de contrabando involucraron a 3,722 cubanos en intentos de llegar a las costas de la Florida, incluyendo a aquellos vinculados en operaciones marítimas hacia Bahamas, Islas Cayman, Islas Vírgenes y otros destinos en el mar Caribe y el Océano Atlántico.
Un éxodo masivo y silencioso de cubanos acontece paralelamente a través de los puntos fronterizos de México y Canadá. Solo por la frontera mexicana llegaron a territorio estadounidense 16,247 cubanos durante el 2014.


Etiquetas: Balseros, Cuba-Estados Unidos, Emigracion cubana
viernes, diciembre 26, 2014
By professor Carlos Eire in
The Washington Post
:
Talking with Castro
As a Cuban exile, I feel betrayed by President Obama
I am furious, in pain, and deeply offended by those who laud this betrayal of the Cuban people as a great moment in history.
My family and native land were destroyed by the brutal Castro regime. In 1959, as an 8-year-old, I listened to mobs shout "paredon!" (to the firing squad!). I watched televised executions, and was terrified by the incessant pressure to agree with a bearded dictator's ideals.
As the months passed, relatives, friends, and neighbors began to disappear. Some of them emerged from prison with detailed accounts of the tortures they endured, but many never reappeared, their lives cut short by firing squads.
I also witnessed the government's seizure of all private property – down to the ring on one's finger – and the collapse of my country's economy. I began to feel as if some monstrous force was trying to steal my mind and soul through incessant indoctrination.
By the age of 10, I was desperate to leave.
The next year, my parents sent me to the United States. I am one of the lucky 14,000 unaccompanied children rescued by Operation Pedro Pan. Our plan to reunite within a few months was derailed by the policies of the Castro regime, which intentionally prevented people like my parents from leaving Cuba. Although my mother did manage to escape three years later, my father remained stuck for the rest of his life. When he died, 14 years after my departure, the Castro regime prevented me from attending his funeral.
I am now a professor of history and religion at Yale University.
And I long for justice. Instead of seeing Raúl Castro shaking President Obama's hand, I would like to see him, his brother, and all their henchmen in a court room, being tried for crimes against humanity. I also long for genuine freedom in Cuba. Instead of seeing his corrupt and abusive regime rewarded with favors from the United States, I long for the day when that regime is replaced by a genuine democracy with a free market economy.
The fact that I am a historian makes me see things differently, too. I earn my living by analyzing texts and documents, sifting evidence, and separating facts from lies and myths. I have been trained to read between the lines, and to discern the hidden meaning in all rhetoric.
While much attention has been paid to President Obama's Cuba policy speech, hardly any has been paid to dictator Raúl Castro's shorter speech, broadcast in Cuba at exactly the same time.
In his spiteful address, the unelected ruler of Cuba said that he would accept President Obama's gesture of good will "without renouncing a single one of our principles."
What, exactly, are those principles?
Like his brother Fidel, whose name he invoked, and like King Louis XIV of France, whose name he dared not mention, Raúl speaks of himself as the embodiment of the state he rules, as evidenced by his mention of "our principles," which assumes that all Cubans share his mindset. Raúl claims that he is defending his nation's "self-determination," "sovereignty," and "independence," and also dares to boast that his total control of the Cuban economy should be admired as "social justice."
In reality, he is defending is his role as absolute monarch.
Cubans have no freedom of speech or assembly. The press is tightly controlled, and there is no freedom to establish political parties or labor unions. Travel is strictly controlled, as is access to the Internet. There is no economic freedom and no elections. According to the Associated Press, at least 8,410 dissidents were detained in 2014.
These are the principles that Raúl Castro is unwilling to renounce, which have driven nearly 20 percent of Cuba's population into exile.
Unfortunately, these are also the very principles that President Obama ratified as acceptable, which will govern Cuba for years to come.
Although President Obama did acknowledge the lack of "freedom and openness" in Cuba, and also hinted that Raúl Castro should loosen his grip on the Cuban people, his rhetoric was as hollow as Raúl's. He didn't make any demands for immediate, genuine reforms in Cuba. Equally hollow was his reference to Cuba's "civil society." He made no mention of the constant abuse heaped on Cuba's non-violent dissidents, or of the fact that the vast majority of them have pleaded with him to tighten rather than ease existing sanctions on the Castro regime.
But it was not just what was left unsaid that made his rhetoric hollow. Some of the "facts" cited in support of his policy changes were deliberate distortions of history that lay most of the blame for Cuba's problems on the United States.
Among the most glaring of these falsehoods was the claim that "our sanctions on Cuba have denied Cubans access to technology that has empowered individuals around the globe." The real culprit is not the embargo, but the Castro regime itself, which actively prevents Cubans from accessing the Internet. Cuba has been purchasing all sorts of cutting-edge technology from other countries for use by its government, its military, its spies, and its tourist industry.
If studied carefully, what President Obama's artful speech reveals is a fixation on the failures of American foreign policy, and on his role as a righteous reformer. Moreover, the speech is riddled with false assumptions and wishful thinking.
Does President Obama really believe that somehow, magically, an influx of American diplomats, tourists, and dollars is going to force Raúl Castro and his military junta to give up their beloved repressive "principles"?
Dream on. President Obama knows all too well that the Castro regime has had diplomatic and economic relations with the rest of the world and hosted millions of tourists from democratic nations for many years. Such engagement has brought no freedom or prosperity to the Cuban people. He also knows that tourism has only served to create an apartheid state in which foreigners enjoy privileges that are denied to the natives.
President Obama's disingenuous formulation of a new Cuba policy has been praised by many around the world, but will be challenged by the legislative branch of the government of these United States.
Thank God and the Constitution for that.
The American people and the Cuban people deserve a much better future and a much better interpretation of history than those offered to them in President Obama's shameful speech.


Etiquetas: Cuba-Estados Unidos, Cuba-Obama, Emigracion cubana, Raul
jueves, diciembre 25, 2014
martes, diciembre 23, 2014