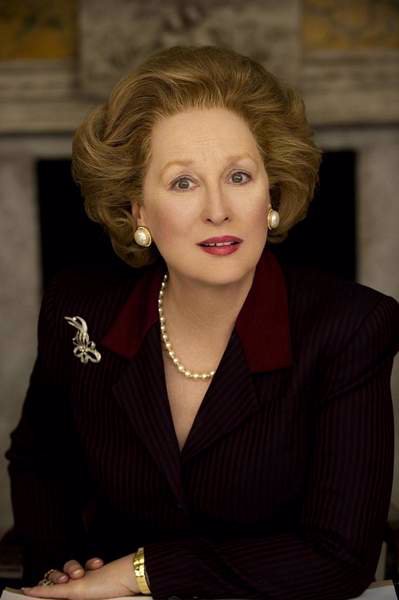 Meryl Streep ya es Margaret Thatcher
LONDRES, 8 Feb. (EUROPA PRESS)
Ya está aquí la primera imagen de
Meryl Streep
convertida en
The Iron Lady
(
La Dama de Hierro
). La ganadora de dos Oscar será la protagonista del biopic que llevará al cine la vida de
Margaret Thatcher
.
Streep, de 61 años protagonizará
The Iron Lady
(La
Dama de Hierro
), un filme que recuerda los días previos a la guerra de las Malvinas de 1982, un conflicto en el que los británicos repelieron una invasión argentina del remoto y disputado territorio en el sur del océano Atlántico.
El éxito en la guerra ayudó a mejorar los índices de popularidad de Thatcher tras la recesión de comienzos de la década de 1980 y contribuyó a la victoria de su partido conservador en las elecciones de 1983.
Hace tres semanas
Streep

acudió al Parlamento británico
donde estuvo presente para observar el evento parlamentario en el que el actual primer ministro, David Cameron, es interrogado semanalmente por los miembros de la cámara sobre asuntos estatales.
The Iron Lady
estará dirigida por
Phyllida Lloyd
, con quien Streep ya coincidió en el exitoso musical
¡Mamma Mia!
y junto a ella estarán
Jim Broadbent
, que interpretará a su esposo, o
Anthony Head
, que dará vida al entonces ministro británico de Asuntos Exteriores, Geoffrey Howe. Alexandra Roach y Harry Lloyd serán los actores que interpreten a la protagonista y su marido en sus años más jóvenes.
La propia Streep ha calificado la figura de Thatcher como "extraordinaria" y señaló que encarnarla en la gran pantalla "es un desafío muy emocionante y de enormes proporciones". "Estoy intentando acercarme al papel con tanto celo, fervor y atención al detalle como el que tenía la auténtica Señora Thatcher", sentenció.