CONTRA EL PINGALISMO CASTRISTA/ "Se que no existe el consuelo que no existe la anhelada tierrra de mis suenos ni la desgarrada vision de nuestros heroes. Pero te seguimos buscando, patria,..." - Reinaldo Arenas
miércoles, abril 16, 2014
OTTAWA -- Canada is the latest western country to receive an Internet threat from an Islamic militant group fighting in Syria's civil war.
"This is a message to Canada and all of America," says a young English-speaking man on a recently uploaded YouTube video. "We are coming and we will destroy you."
The man, who in the 75-second clip is surrounded by masked people holding rifles, claims to be a member of the Islamic State of Iraq and the Levant, also known as ISIL.
"I (came) to this land for one reason alone," the man says before tearing and burning what looks like a passport, "I left comfort for one reason alone: For (God)."
ISIL, which is operating in Syria, has been publicly disavowed by al-Qaeda for being too unruly and unmanageable.
Mubin Shaikh, an expert on Islamic militant groups, says that ISIL is known to be so vicious it kills fellow Muslims whom the group claims don't subscribe to its brand of Islam.
The former CSIS and RCMP mole who infiltrated the Toronto 18 terror cell in 2006, says he is completing his PhD.
He says Canadians shouldn't be too concerned about the video since it is most likely staged and being used for marketing purposes.
"This video clip is theatre," he said. "It served a number of purposes; it appeals to (ISIL's) own groups and those they want to recruit."

Islamist Internet threat 'theatre,' expert says


Etiquetas: America, Canada, Estados Unidos, Terrorismo, terroristas
jueves, mayo 09, 2013
gafoundation

America and Greece Spirits: "Bread Education Freedom" [Short Film]


Etiquetas: America, cine, conducta humana, grecia, Vida
domingo, abril 28, 2013
microsiervos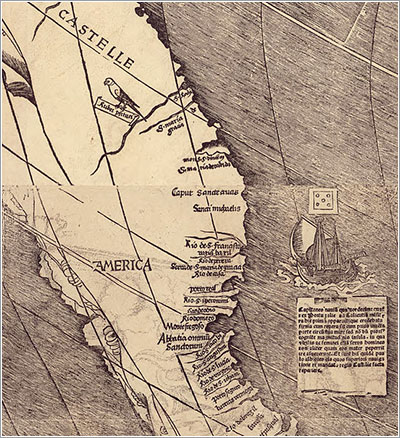 Detalle del Universalis Cosmographia, el mapa que bautizó América
Dejando aparte incursiones de los vikingos, el consenso es que América fue descubierta por
Cristóbal Colón
, aunque él creía haber llegado a asia navegando hacia el oeste y abriendo lo que él creía una nueva ruta.
Por eso en aquella época se hablaba de lo que hoy conocemos como América refiriéndose a ella como a las nuevas tierras o las Indias.
Fue la publicación por del primer mapa del mundo que incluía de forma razonablemente precisa esta parte del mundo por parte del geógrafo
Martín Waldseemüller
la que puso en marcha el proceso que hizo que las Indias de Cristóbal Colón se acabaran llamando América por
Americo Vespucio
.
Impresionado por los libros escritos por Americo acerca de sus viajes a esas nuevas tierras Waldseemüller rotuló ese continente como América en su mapa, aparte de incluir en el mapa un montón de información sacada de los libros en cuestión.
La historia completa de esta curiosa historia de la historia la tiene Pepe Cervera en
El tipo que robó un continente
, aunque quizás lo más irónico de toda esta historia es que igual que Cristóbal Colón murió sin saber que había descubierto un nuevo continente parece que Americo Vespuccio tampoco llegó a ver como su nombre se convertía en el nombre de un continente.

¿Por qué América se llama América?


Etiquetas: America, Curiosidades, Historia, Mapas
sábado, junio 16, 2012
WND/ By Troy Anderson
At a time of skyrocketing federal debt, declining morality and growing spiritual apathy and apostasy, New York Times bestselling author Joel C. Rosenberg – known as a "modern-day Nostradamus" – says America may face cataclysmic collapse in the not-too distant future.
"My concern is we are experiencing an epic failure of leadership at almost every level of American society right now," Rosenberg told WND. "Something has gone terribly wrong with the American experiment. Our families are imploding, our national debt is exploding, experts on the left and right are warning us that we need to change our direction because we're on an unsustainable trajectory economically, socially and culturally.
"Unfortunately, too many leaders in our country are stuck in business as usual mode and Americans are getting anxious that the ice is cracking under our feet."
The book, released this week, comes as people at nearly 300 locations nationwide are set to listen to Rosenberg on Saturday morning discuss whether America is headed for implosion or revival during a live, three-hour "Implosion Simulcast" from First Baptist Church in Houston, Texas.
Details have been posted at JoelRosenberg.com.
Rosenberg is a bestselling author with more than 2.5 million copies of his books in print. One of his books – "The Last Jihad' – put readers in the cockpit of a hijacked jet on a kamikaze mission into an American city. It was written nine months before the Sept. 11, 2011 terrorist attacks. Afterwards, U.S. News & World Report described him as a "modern-day Nostradamus." He also wrote about the U.S. at war in Iraq four months before the war began.

'Modern-day Nostradamus' warns U.S. of doom


Etiquetas: America, estados unidos crisis
martes, mayo 29, 2012


Etiquetas: America, Emigracion, Estados Unidos
sábado, mayo 19, 2012
Thomas J. Sargent's Nobel Prize lecture, "
United States Then, Europe Now
," draws an important parallel between the United States - the Articles of Confederation of 1781 and the ratification of the U.S. Constitution in 1788 - and Europe today. In both cases, polities were joined in a currency union under the tutelage of a weak central government, without the power to tax and conduct fiscal policy, and with all the free-rider problems that this creates. Sargent takes the reader through a tour of some basic dynamic general (macro-) equilibrium modeling, emphasizing the importance of the government's budget constraint — even the government's debt has to be paid and that determines the value of its bonds.
But the bottom line comes down to how the U.S. Constitution sorted out the quagmire by giving the central government the power to tax and transferring the debt obligations of states to the central government (i.e., "bailing out" the states). This arrangement was not only more stable (because it avoided the free-rider problems) but also enabled the U.S. government to establish a reputation as a credit-worthy borrower, thus reducing its future borrowing costs. Sargent also notes the importance of the federal government not bailing out the states once more when, after 1829, many states started running large government deficits, which they were not able to sustain — Sargent suggests that this decision led to fiscal discipline at the state level.
Sargent draws the conclusion that the current situation in Europe is also likely untenable in the same way that the United States was in an unstable arrangement before 1788.
Though there is much to agree with Sargent's conclusions, one thing in his discussion is notable in its absence: political economy.
Was the transition from the Articles of Confederation to the U.S. Constitution just a process of better (albeit slow) understanding and learning by clever and well intentioned leaders? Sargent implies that the answer is yes.
But one could have developed a political economy perspective where this transition was shaped by its economic and political implications for different groups.
Beard started by dismissing explanations for the unique sequence of events leading to the U.S. Constitution based on some distinctive cultural characteristics of the American people. He also dismissed accounts that only emphasized the genius of the founding fathers. Instead, he wrote (p. 16):
class and group divisions based on property lie at the basis of modern government; and politics and constitutional law are inevitably a reflex of these contending interests.
So Beard argued that a defining set of factors leading to the U.S. Constitution were the political powerful groups who stood to benefit from it. Or in his words (p. 63):
Large and important groups of economic interests were adversely affected by the system of government under the Articles of Confederation, namely, those of public securities, shipping and manufacturing, money at interest; in short capital as opposed to land.
Importantly, Beard doesn't deny that other factors were at play, or that the economic system that the U.S. Constitution created was more "efficient" — meaning that it created fewer instabilities. But the point is that this wasn't the only or even perhaps the most important reason why the U.S. Constitution was adopted and ratified. It was ratified because those who stood to gain — the creditors, the manufacturers, the merchants and the politicians — were sufficiently powerful. (Some of the details of Beard's account are hotly debated, see, for example,
this paper
, though the general political economy approach to constitutional design he advocated seems to have withstood the test of time).
The lessons for Europe are little more complex than a story like Sargent's where institutional changes took place because they were finally understood to be more efficiency-enhancing. First, the coalitions in favor of a stronger fiscal union may be different today (for example, banks rather than capital owners in general may be the main beneficiaries of bailing out indebted countries). Second, the same economic interests may not be sufficiently politically powerful or may be facing a more determined opposition in Europe than in the United States 230 years ago. Third, the redistribution that a move towards a fiscal union will entail and the accompanying further bailouts of constituent polities may be more extensive and thus more difficult to pull off. Fourth, the institutional heterogeneity and the institutional weaknesses in some of the European countries such as Greece may be more dramatic today, making a fiscal union less attractive or less feasible.
One implication of all this is that what was a political equilibrium in the founding of the U.S. Constitution may not be a political equilibrium today in Europe, at least not in a form that includes all members of the European Union — even if such an arrangement would be efficiency-enhancing and growth-promoting.
This can be seen from the fact that what was a political equilibrium in the United States turned out not to be one in Latin America. After independence, Latin American countries also faced similar problems, including decisions on how to pay off the debts that had built up during their independence wars and how to build nations from smaller and sometimes competing polities. Some places like Argentina did manage to create a federal state, though Buenos Aires opted out for some time. Even in this case, as we point out in Chapter 13 of Why Nations Fail, they did it with a centralizing constitution that created many perverse incentives, shaping the future problems that Argentina would face. In other places, such as the putative Federal Republic of Central America, which lasted between 1823 and 1838, and Gran Colombia, which lasted only a decade between 1821 and 1831, no such agreement turned out to be stable.
So the sort of union that emerged in the U.S. Constitution and helped solve the free-rider problems and build government reputation in financial markets is not the only possible endpoint. Where Europe will end up will ultimately be determined not so much by what is the best arrangement for Europe as a whole but the political equilibrium between and within countries.

American Lessons (for Europe)
viernes, mayo 11, 2012
www.truthorfiction.com/
Summary of the eRumor:
An eRumor titled "What's Obama Reading?" with a photo of Barack Obama holding the book, Post-American World by Fareed Zakaria. The eRumor implies that Obama is a Muslim, that he is the most liberal nominee to run in history and that this book predicts the end of the United States.
The Truth:
This short eRumor prompts several questions:
1. If this photo authentic or fabricated?
2. Is Obama the most liberal nominee to ever run for president?
3. Is the book, he's holding in the picture, which is titled The Post-American World, a scary book written by a Muslim?
4. If it is written by a Muslim, does that make him a "fellow" to Barack Obama.
Let's take this one question at a time.
1. The photo of Barack Obama with book in hand is authentic and according to a New York Times Book Blog written May 21, 2008 was taken by Doug Mills for the New York Times in Bozeman, Montana.
2. Whether Barack Obama is the most liberal person to ever run for president is a matter of opinion but he is proudly liberal and has ranked as one of the most liberal among senators. The National Journal uses 99 key Senate votes each year to classify Senators and ranked Obama as the most liberal in 2007.

3. The Post-American World was written by Fareed Zakaria who is an editor at Newsweek International, has a regular column in Newsweek, Newsweek International and the Washington Post. He also hosts the weekend CNN program on international affairs, Fareed Zakaria GPS. He was reared Muslim in India but is an American citizen and describes himself as "not a religious guy." In a 2008 Newsweek article about his book, Zakaria wrote, "The post-American world is naturally an unsettling prospect for Americans, but it should not be. This will not be a world defined by the decline of America but rather the rise of everyone else. It is the result of a series of positive trends that have been progressing over the last 20 years, trends that have created an international climate of unprecedented peace and prosperity."

4. There is no evidence that Barack Obama is Muslim although critics attempted to make that an issue in his 2008 presidential campaign.
CLICK HERE
for TruthOrFiction.com's article on that issue.
Click
here for New York Times blog
Click
for Newsweek article on Post-American World by Fareed Zakaria
updated 10/16/08
A real example of the eRumor as it has appeared on the Internet:
This will (should) open your eyes. What does Obama read
The name of the book Obama is reading is titled: The Post-American World, written by a fellow Muslim.
Post-America? After America? Scary.... !!!!!!!!! Please forward this picture to everyone you know to expose Obama's radical ideas and intent for this country! Thanks!

Obama reading "The Post-American World"


Etiquetas: America, Barack Obama, Estados Unidos, Musulmanes
martes, abril 17, 2012
Read >>

Matt Rutherford - Solo Sail Around the Americas
sábado, noviembre 12, 2011
This fascinating documentary examines the mystery surrounding the sailing exploits of the legendary Admiral Zheng and his 30 year command of a gigantic Ming fleet.
The Chinese court burned all records of Admiral Zheng's daring voyages and achievements, and unwittingly created a mystery that tantalizes the world 500 years later.
You've heard what the history books have to say about the discovery of America, but now prepare to have your entire perception of history forever altered with this remarkable release from PBS.
Could it be that a fearless Chinese admiral actually discovered America nearly a century before Columbus made his historical landing at San Salvador?
Travel back to the year 1421 and follow the legendary Admiral Zheng as he and his formidable Ming fleet travel far and wide to explore little-visited outposts at the behest of Chinese emperor Zhu Di.
Based on theories put forward by noted historian and best-seller Gavin Menzies, this thought-provoking take on conventional history proposes that it was Admiral Zheng who led European explorers to the West a whole 71 years after first setting foot on American soil.

1421: The Year China Discovered America? [Documentary]
jueves, noviembre 10, 2011


Etiquetas: America, Canada, Estados Unidos, Islam, Terrorismo


Etiquetas: America, Canada, Estados Unidos, Islam, Terrorismo